Largest Frame Selection In The World!
For More Information About Our Services - Email: arta2z@aol.com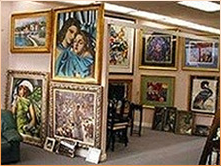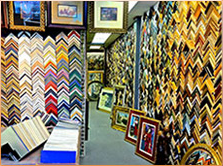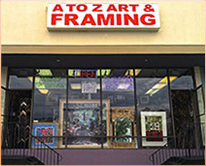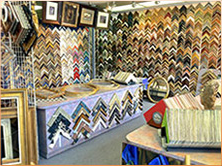 We are a RARE find.
We are located in Rockville MD, providing custom framing for clients in Bethesda, Chevy Chase, Damascus, Gaithersburg, Germantown, Kensington, Olney, Potomac, Silver Spring, Somerset, Takoma Park, Wheaton, and throughout Montgomery County, Maryland, Washington DC and Northern Virginia.
A full service, custom picture framing and fine art restoration and preservation business, with 5 generations of expertise, and the largest frame selection in the world. A to Z Art & Framing has been serving the District of Columbia, Maryland, and Northern Virginia for many decades.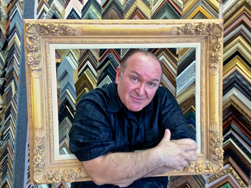 Our extensive client list includes:
The Smithsonian Institute, prominent Interior designers, Art collectors, Artists, photographers, The White house, many U. S. Presidents and their families.
When it comes to art and framing, if we can't do it, it can't be done.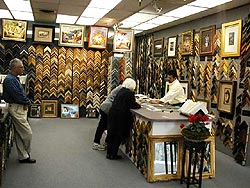 A to Z Art & Framing is a full service custom framing shop with the largest selection of framing mouldings. Design and consultation for your home or office as well as delivery and installation. Conservation and archival framing, mirrors, canvas stretching, needlepoints, shadow boxes, memorabilia, posters, sports jerseys, photo restoration. Let us help you to express your style.
Same day service available. We are experienced and ready to assist you in the creative process so your custom frame design is perfectly tailored to your personal style. In addition, we offer the latest in conservation and archival techniques. We can help you with all of your framing needs, including the following services and more:
Conservation, archival framing; Custom mirrors; Shadow boxes; Hand-wrapped fabric mats; Painted / Gilded bevels; Textile framing Art / Photo restoration; Multiple-opening mats; Stretching canvas / fabric; Large format framing; Vintage posters; Installation service; Pick-up and delivery; On-site consultations.
Plenty of free parking.
What goes into custom framing?
Art objects usually need a method of presentation, such as a frame, a box or a stand, in order to be enjoyed on a daily basis. The same elements of design that go into creating the art are used when designing the presentation. These elements include: color, shape, line, texture, value, space, proportion and form.
At A to Z Art & Framing, we can assist you in choosing the proper methods, materials and presentation of your treasured pieces. A big part of the framing process is in picking the right frame for your work. The right frame and mat needs to be chosen. A good frame and mat choice takes into account the colors, patterns and textures of the artwork and the area in which the work will be displayed. Depending on the type of artwork, i.e., fine needlework, oil on canvas, computer printouts, etc., the proper conservation mounting and backing must be prepared. Many other design techniques such as fillets, spacers, floater frames, stacked frames are used for different types of artwork for desired effects. Choosing the right presentation for your artwork is a decision that needs an expert eye.
Click Here For an Online Map and Driving Directions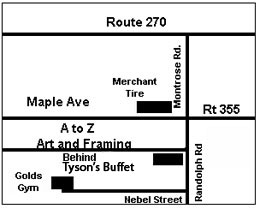 YOU NAME IT - WE FRAME IT
---
CWR0219